Ben and I are engaged. *wibble*

We went to Santa Barbara for his birthday/our anniversary (the two are only a week apart). Santa Barbara is about 90 miles north of Los Angeles, a coast town of 90,000 or so. It's a fairly popular tourist destination, but I'd briefly driven through it before and saw how pretty it was. This was the first weekend that we had had off together since I started working, as I always work either Sunday or Saturday, so we were very excited to go and have a brief little vacation for the weekend.

Of course, part of me thought that it would be pretty obvious for Ben to propose this weekend. A few weeks ago we'd been talking about it, and something about his demeanor had changed. Sometimes when we would discuss getting engaged Ben would be worried about there not being a good moment for the proposal, but this time, he was joking and teasing me about proposing in terrible ways, and just generally being cheerful about it instead of pensive. I did file that away but at the same time, I wanted to just enjoy the weekend with him, proposal or no proposal.

The weekend was a blast. We drove up to Santa Barbara with no plans in mind, just winging it. We found the Visitor Center and a nice old lady gave us a map and showed us some places to check out around town, such as the historical old courthouse, the art museum, and the tours of the adobe buildings.

We checked out the beach first, and found a horde of Black Skimmers, one of my favorite birds ever. They fish by holding their bottom bill in the water as they fly, and when they hit a fish, their head dips down, the top bill closes, and then they pull up with a fish in hand. It's totally a bizarre way to fish.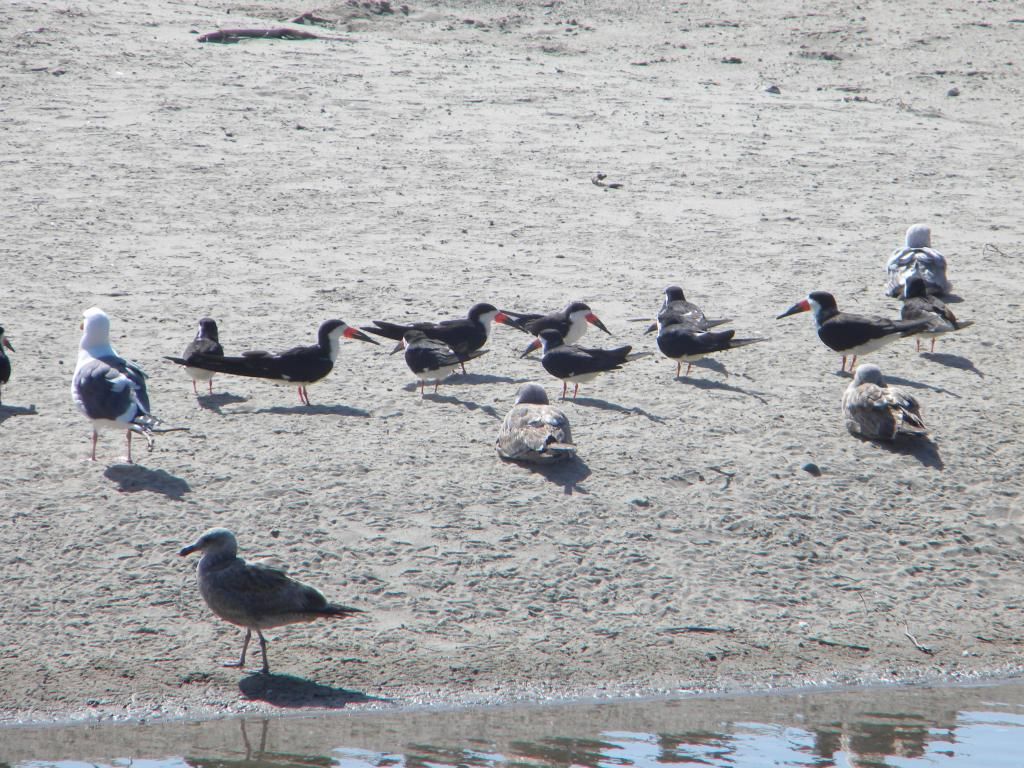 The beach was all right, though we still prefer our rocky Oregon beaches to the flat sandy California beaches. We enjoyed walking out on Stearns Wharf and spent an enjoyable time sitting on a big log overlooking the sea, watching pelicans and hoping for whales or dolphins, though they did not appear. We picked up some salt water taffy and enjoyed the views of the sea, squinting to look for the Channel Islands, but all we could find were off-shore oil rigs obscured by the sailing club.

We continued on our merry way to go investigate State Street, the main downtown thoroughfare filled with exciting shops. We stopped in an antique store and I happily procured more coins and bills for my collection, but we were both pretty freaked out by the bracelet they had for sale that was made of teeth. o_O We found shops of quirky gifts and even found a record shop for Ben. We had lunch at a swanky Mexican place which had excellent guacamole and delicious fish, but somewhat safe seasoning on the rest of the fish tacos, instead of a bit of heat. We enjoyed the fountain full of turtles just before the restaurant, and the Spanish influences on the architecture in the Moroccan tiles, the adobe, and the arched windows everywhere.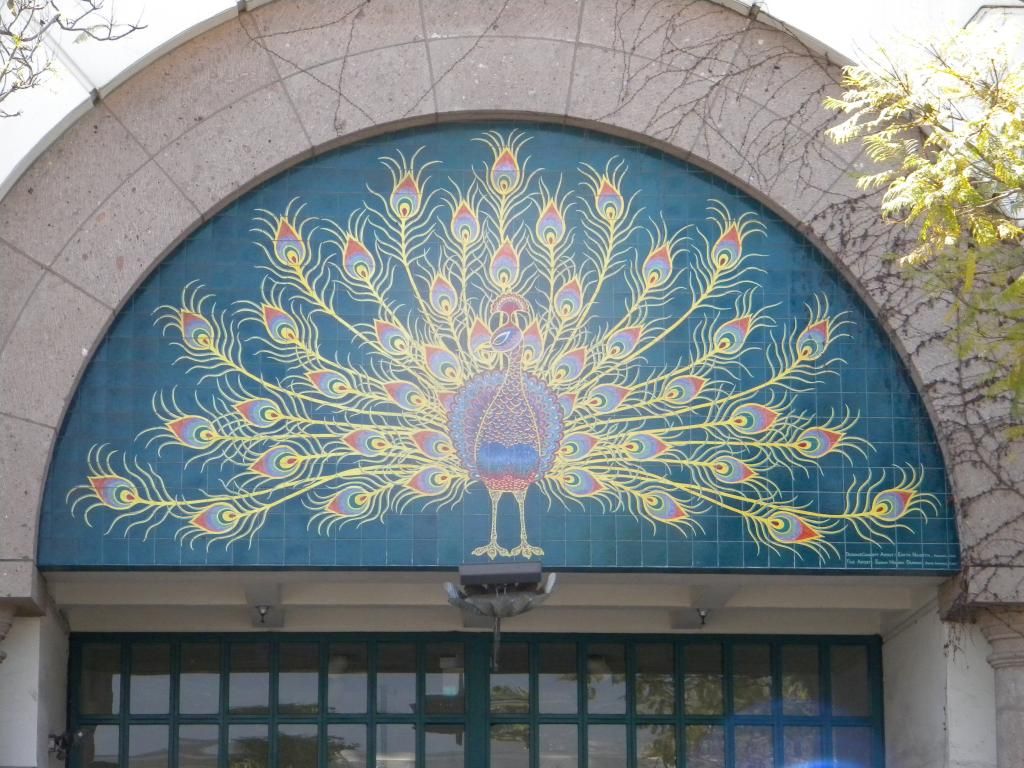 We made our way up to the courthouse, which was splendid in white adobe with lovely red tile roofs. You can go up into the clock tower and see a view of all the city spread below. People were getting married, which was great for them, but it did rather block our view of all the sides of the city.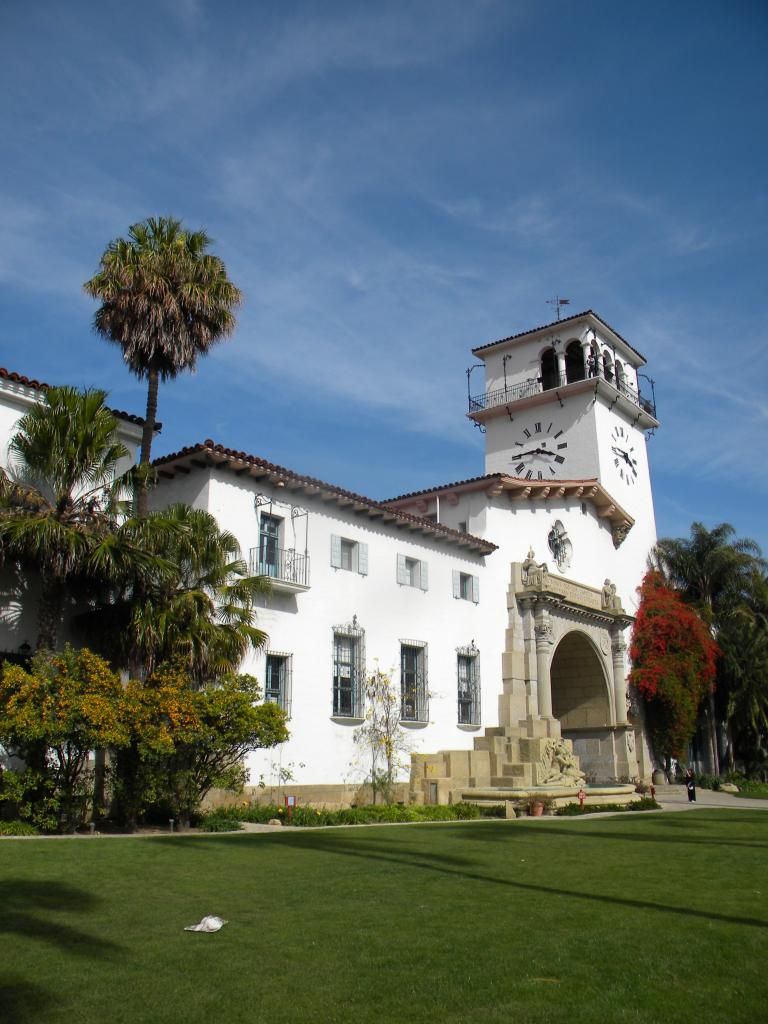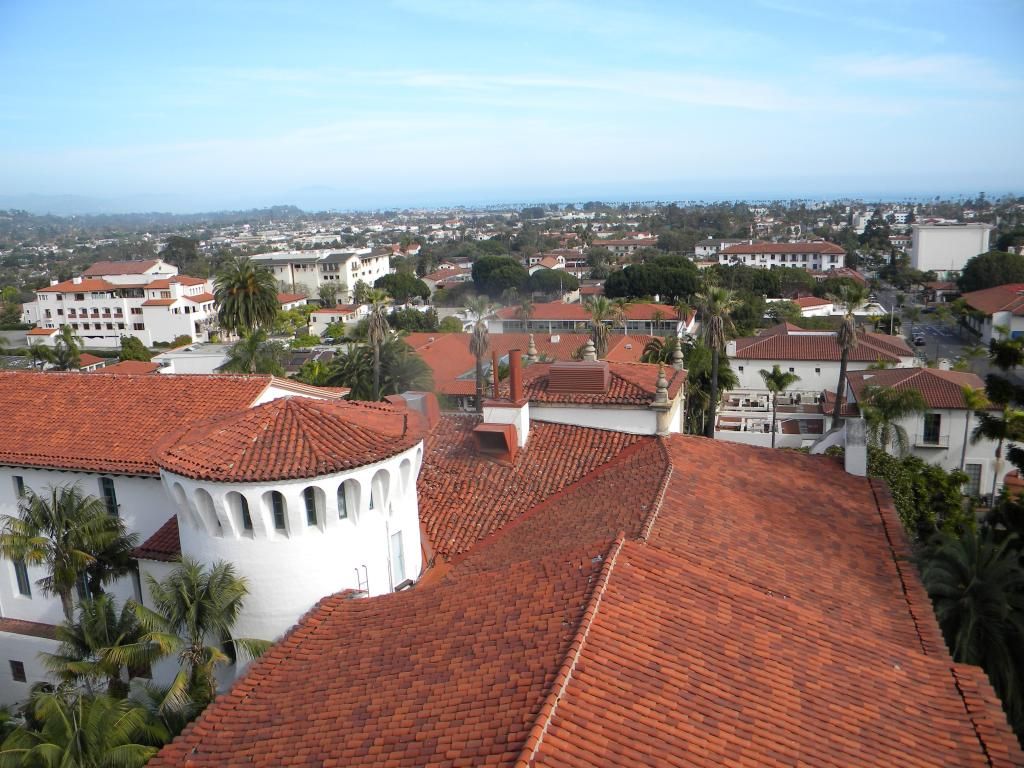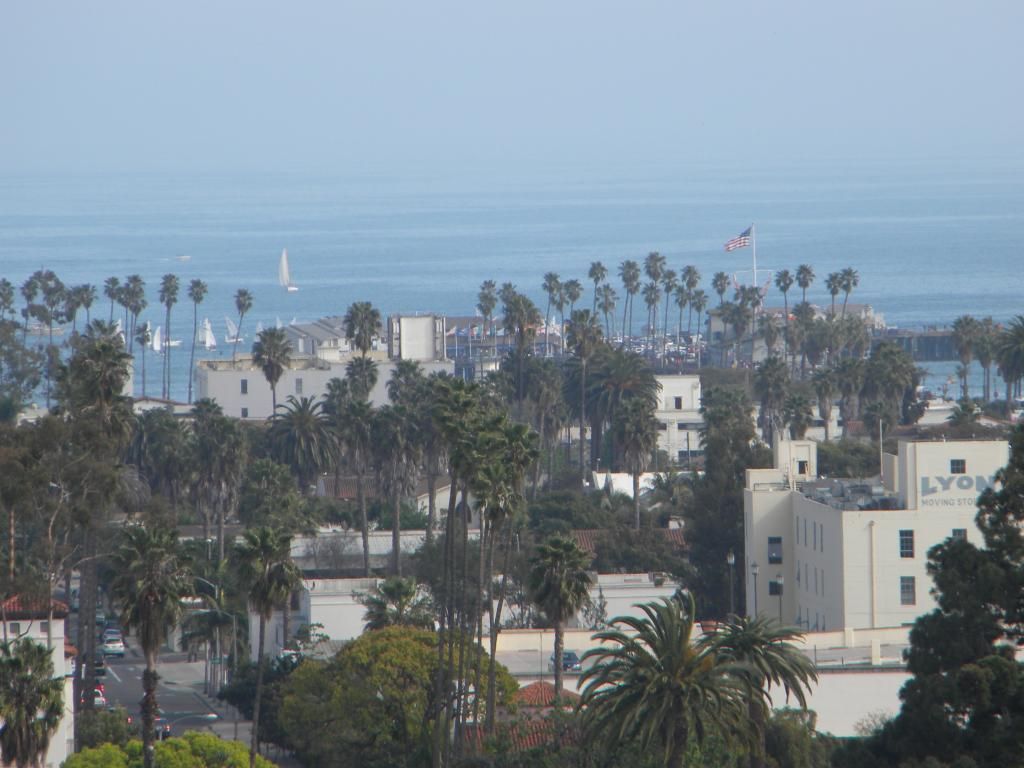 The rest of the day was spent finding a hotel and then returning to the beach as the sun began to set. We skipped rocks into the ocean, both us delighting when we managed to get more than 5 or 6 skips. We made our way onto the wharf as the darkness fell, and looked out at the lights over the water. It was incredibly romantic. I just found myself being overcome with how much I loved Ben; how I've loved him so much for the past 8 years, and how happy I was to be there with him. We made our way again the end of the dock, and sat on the log, looking up at the stars and hearing the waves move in and out.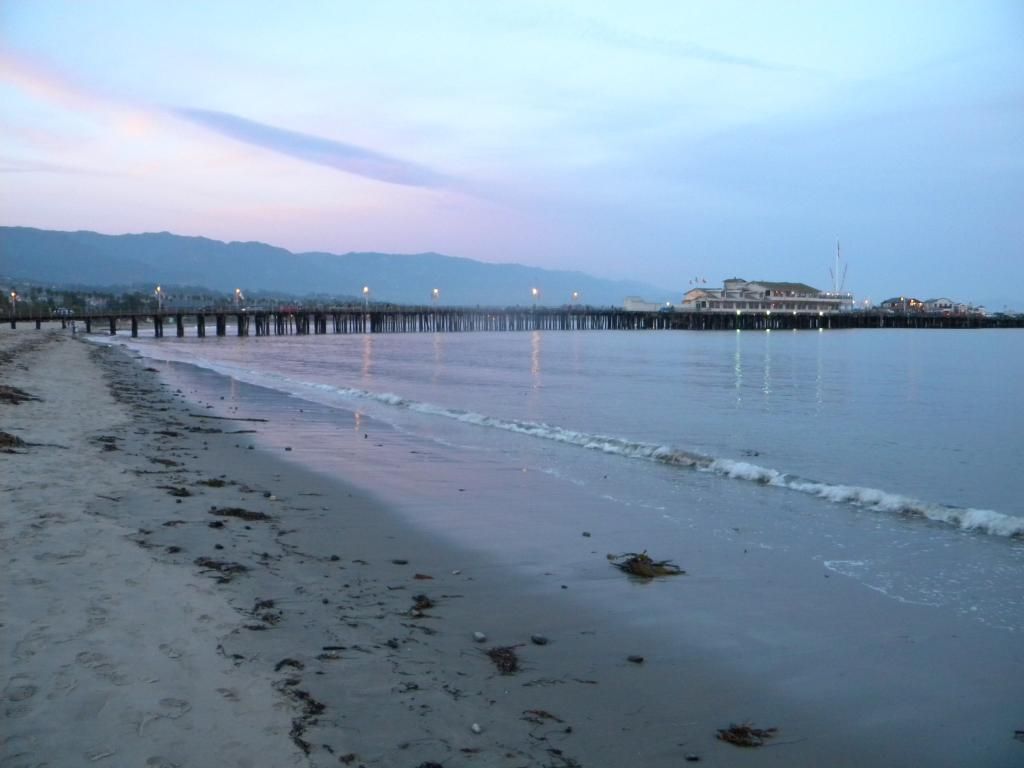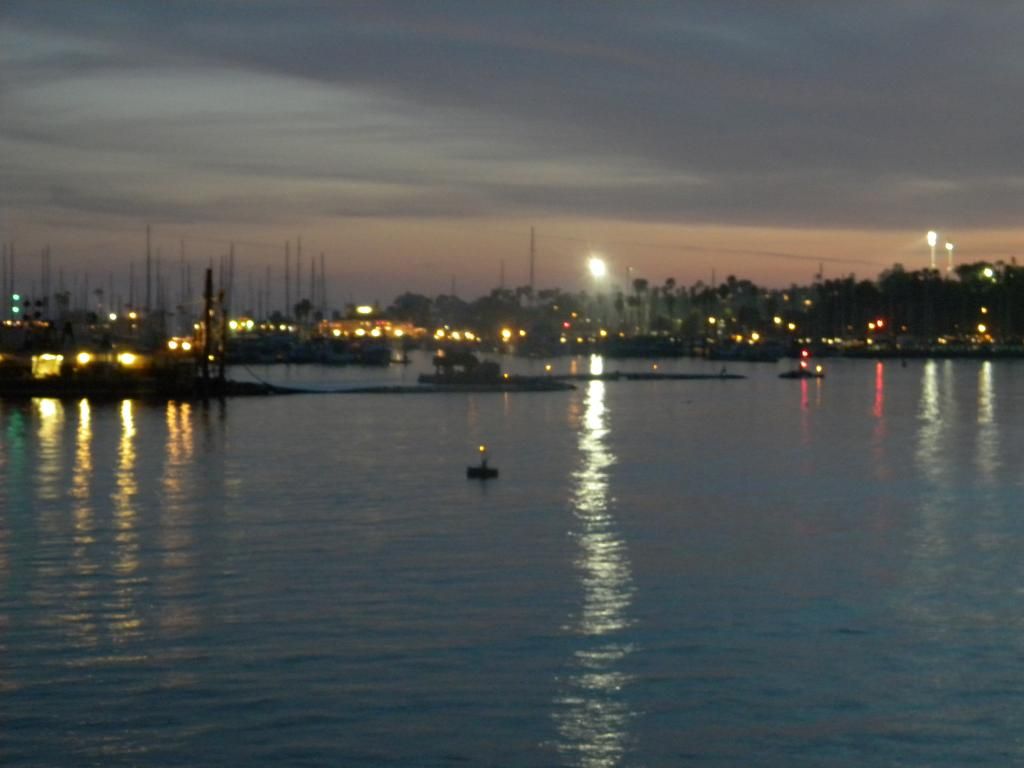 We found some dinner and afterwards made our way back to the hotel, where we collapsed gratefully into bed. We woke up early the next day and headed over to the bird refuge at the edge of town, where Black-crowned Night Herons, Great-tailed Grackles, Ruddy Ducks and Cinnamon Teals were in abundance.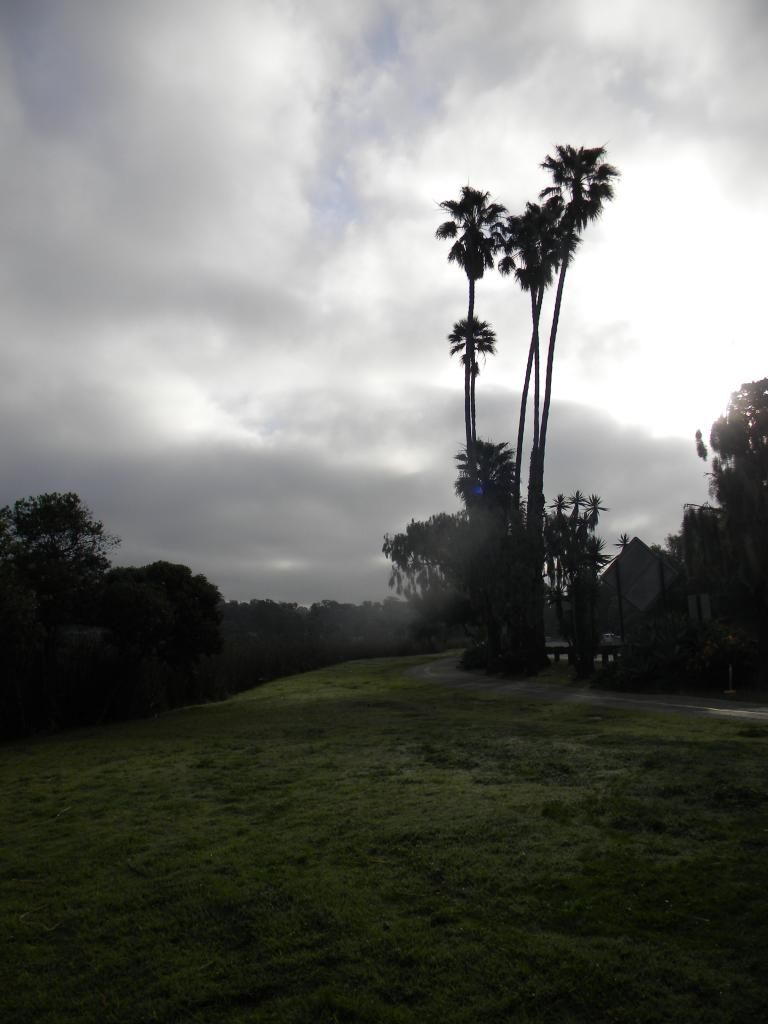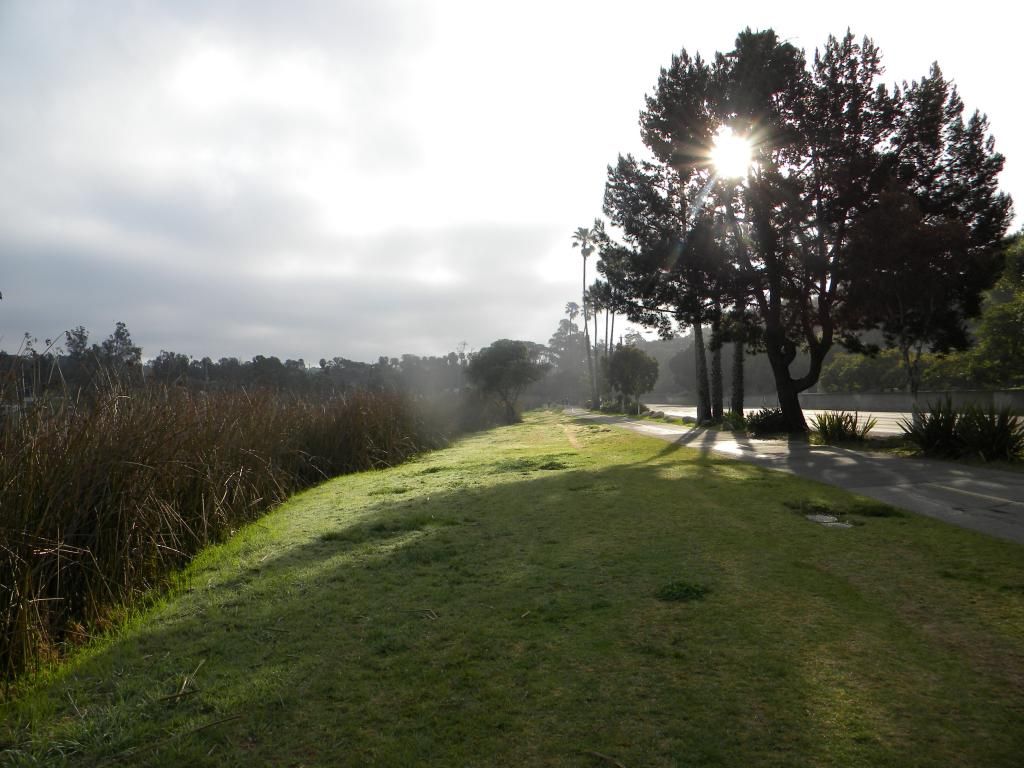 After birding Ben suggested that we head back over to State Street, as he wanted to check out the courthouse again, hopefully this time with less people. I agreed and we headed back as the sun got warmer. By the time we got there I was hot and a little tired, so we rested in the lower part of the courthouse, checking out some of the architecture.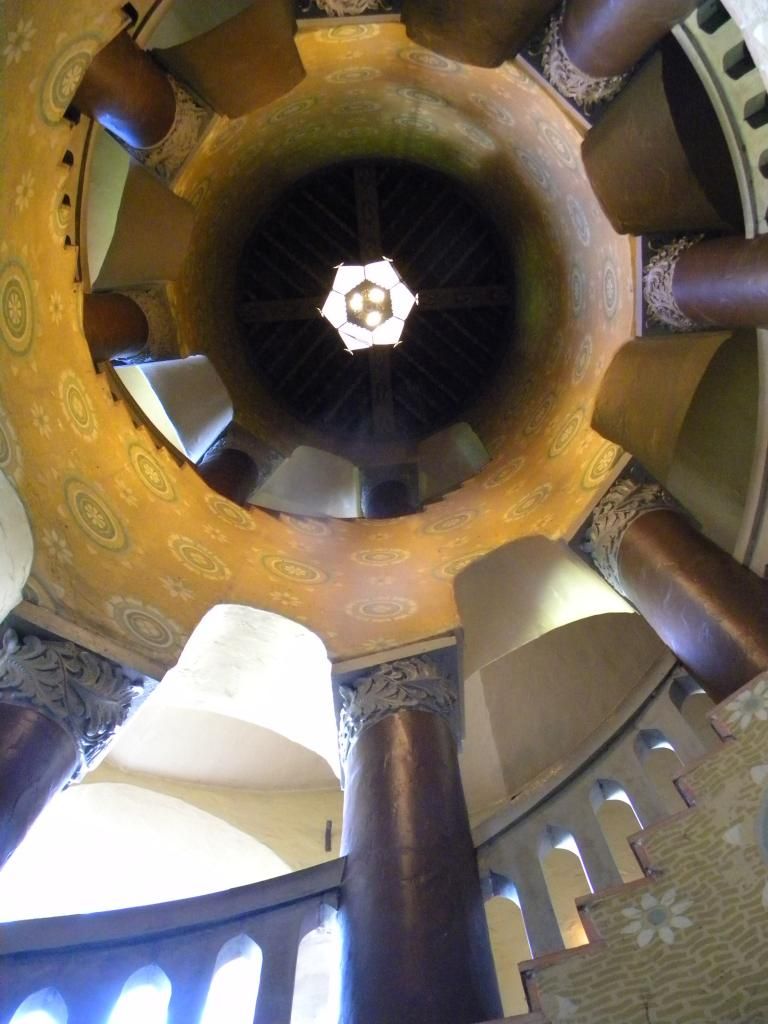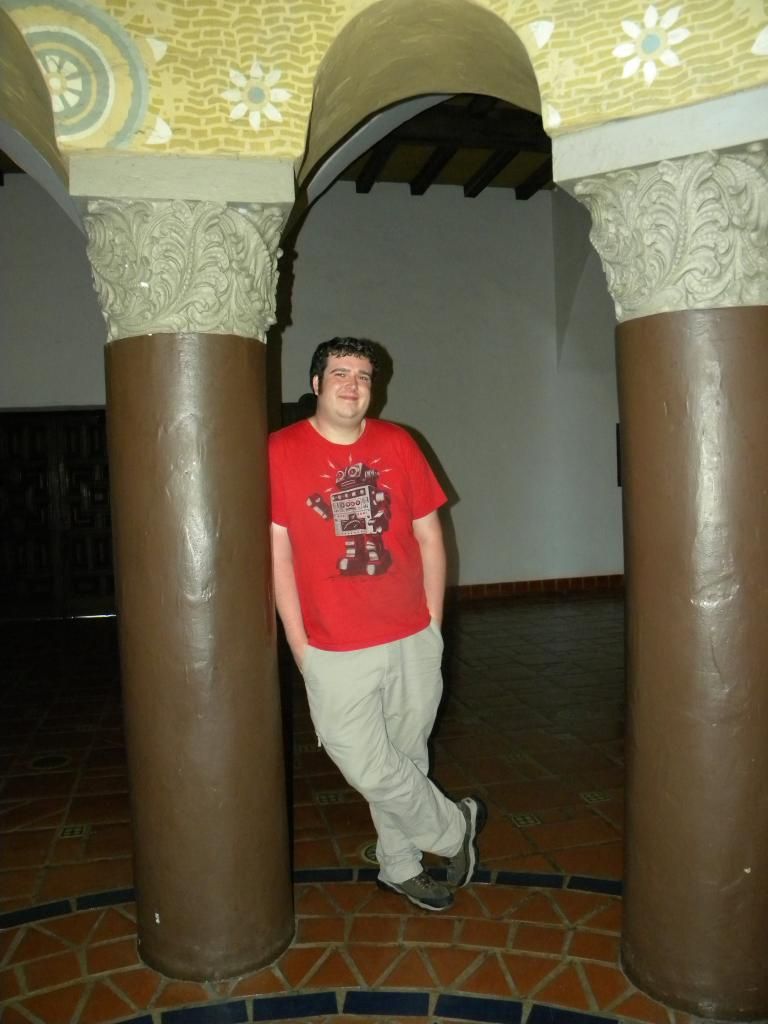 (Ben, being nervous, though I didn't know it at the time.)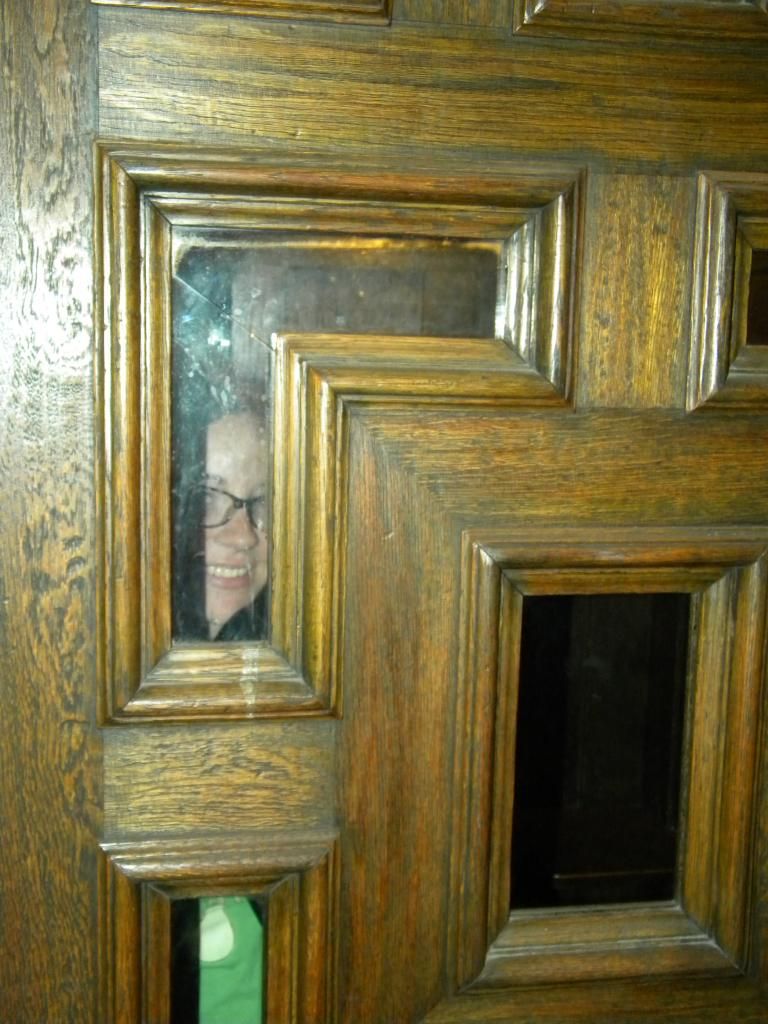 Hanging out inside the wooden telephone alcove.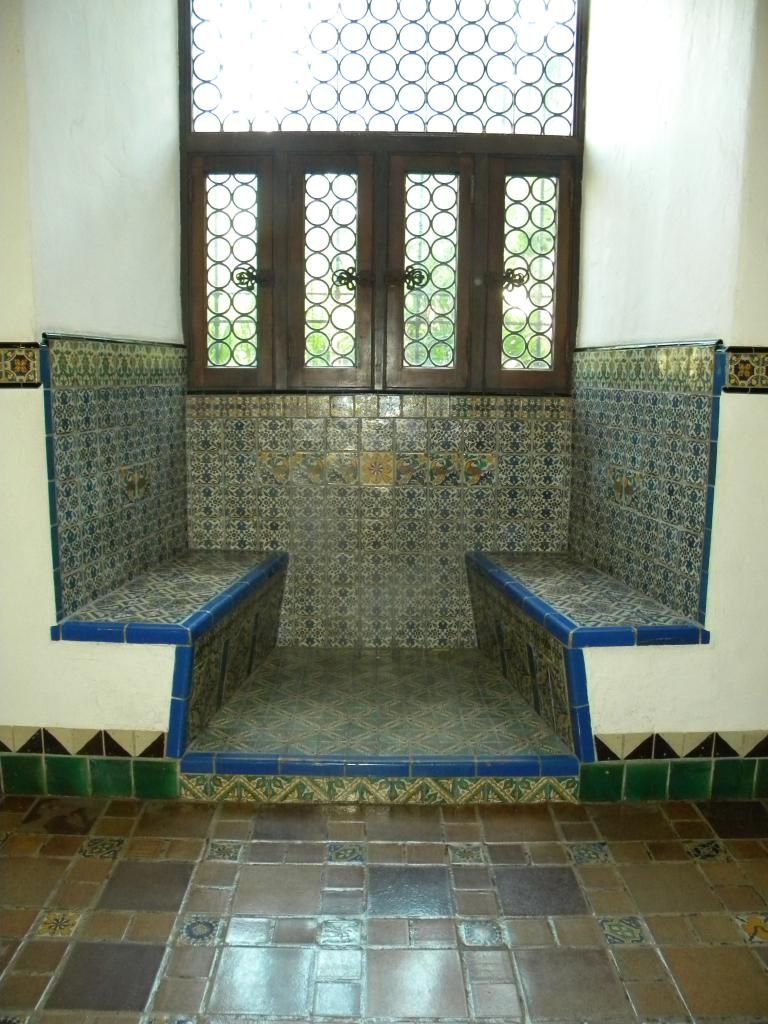 Moroccan tile.

We climbed up the courthouse steps into the clock tower, leaving me all out of breath. Ben hugged me and together we looked out again at the ocean, the mountains, the trees, the red tile roofs, the white adobe. It was lovely. We cuddled for a second and I made a comment about us being too schmoopy (aka cuddly). Ben said, "Well, I brought you up here to be schmoopy." He seemed to be waiting for something. Some people came up the stairs then and Ben moved us to one of the other corners. "What's your favorite view?" he asked.

I looked up at him and for a second caught a glimpse of deep emotion behind his eyes. My heart leapt into my throat. He's going to propose to me in front of my favorite view! Suddenly I was all nervous, and then afraid that maybe my instincts were wrong after all. "The view with the ocean and the mountain," I said, holding his hand tightly. We walked over to that side of the tower but people started swarming on either side of us.

Things seemed to be moving very slowly. I was excited and nervous and Ben was quiet too. We just held hands and looked out over the city, and I kept an eye out for a gap in the rows of other people, wanting to give him an opportunity. We finally scooted over to one of the sides and found a corner of privacy again.

Ben was quiet. I swallowed. "Is there anything else you wanted to do today that you haven't gotten to do?"

"Oh, no," Ben said casually. I wondered at that. I was going to feel so silly if we walked out of the courthouse and I'd been completely wrong! But then he amended, "Well, there is one thing. I want to spend the rest of my life with you."

"Well, I know that," I said, smiling up at him. He stood behind me, hugging me then, and I felt his hand go into his pocket. Oh god oh god it's really happening! my brain squealed, and I looked out in the other direction in case he was having a hard time finding the ring in his pocket (he was). Finally he stopped fidgeting and brought his hand back out. He turned me around again to face him and kissed me, his hand closed around something, and he stepped back one step.

"Gina, will you marry me?" he said, and he held out a little black box in his hand and opened it as he sank down to one knee.

I started crying at the "will you" part and my hand flew up to my face in shock. I didn't even say anything at first, just had tears streaming down my face as I nodded. He got to his feet and hugged me as I cried (ha, I'm crying again just typing this), and though I didn't see his face, I guess he was crying a little too. Finally I said "Yes, of course I will marry you!" and kissed him. He gave me the ring, which is ridiculously sparkly and shiny and has the multiple stones I wanted without a huge obnoxious solitaire that would make wearing exam gloves difficult, haha.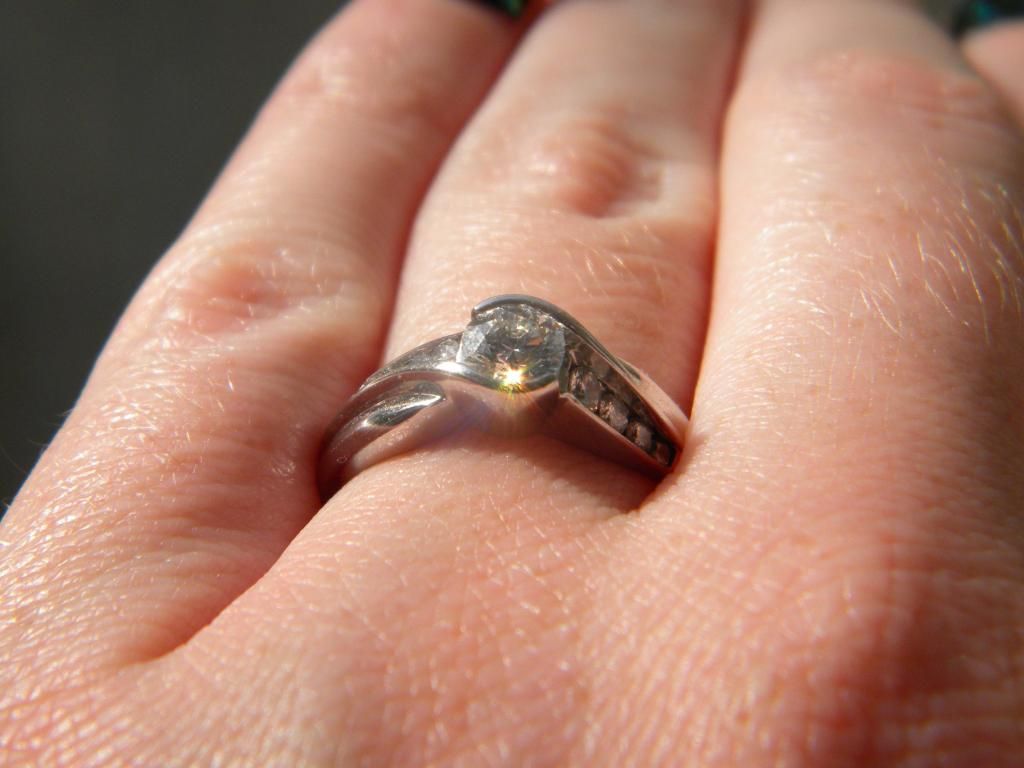 So then we just hugged and kissed while I trembled all over, and we laughed and smiled. We got someone to take a picture of us, and she was suitably impressed that we had JUST gotten engaged.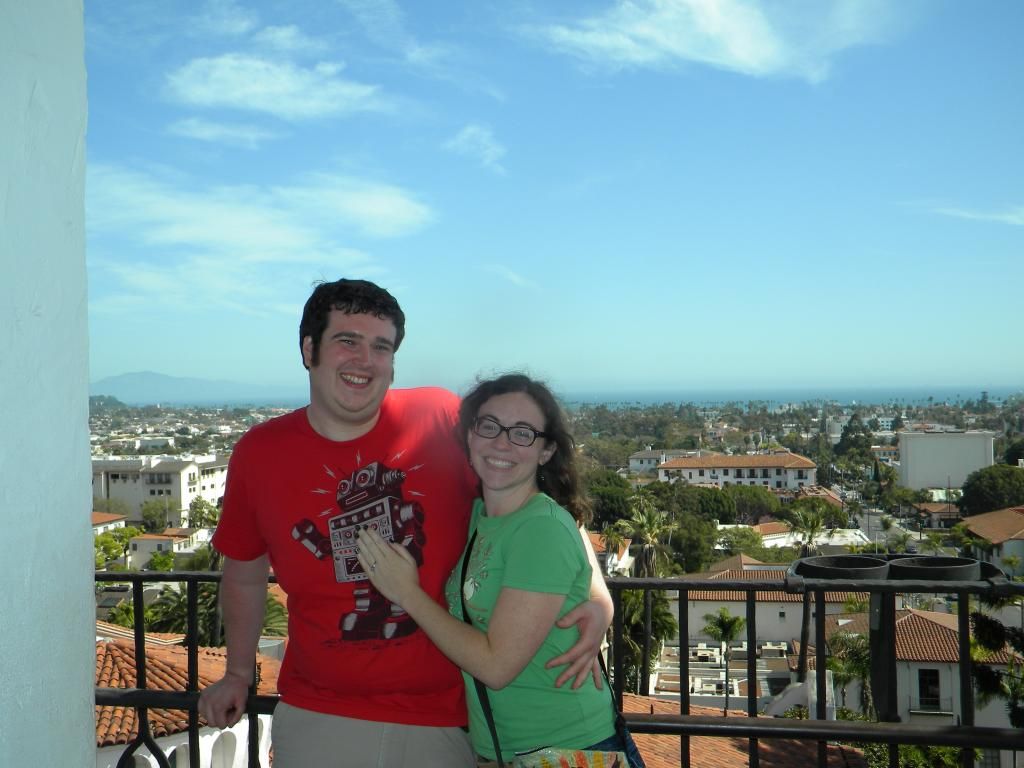 What's great is that Ben is wearing one of his robot t-shirts, and I'm wearing one of my bird t-shirts. Not so glamorous, perhaps, but it's completely us. And being up there in a beautiful building overlooking a beautiful city in a cool breeze near the sea, well, it just doesn't get any better than that.